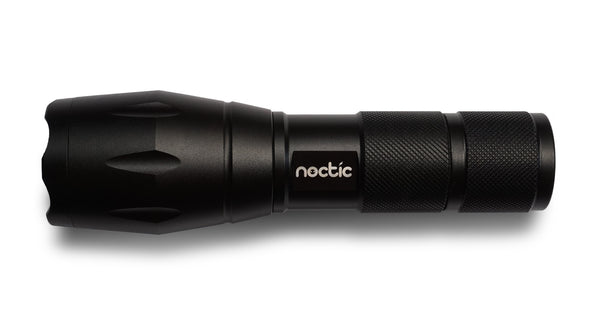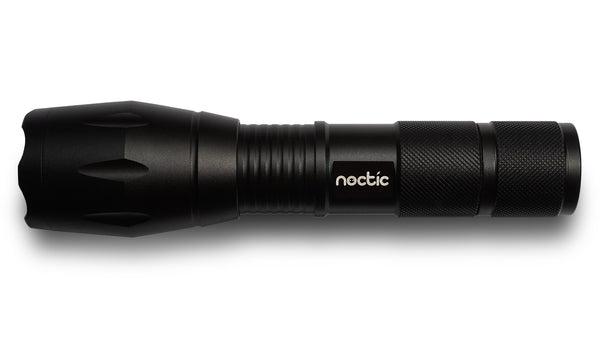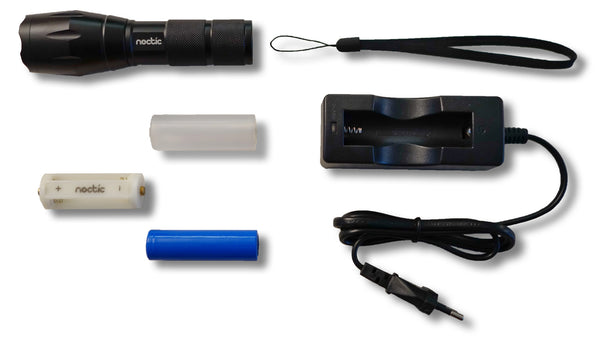 Free shipping to European Union
Available in 58 countries
One flashlight for all
The Noctic Focus is designed to last for a lifetime. It provides a powerful light beam that shines over 200 meters far and up to 20 hours. It is shock resistant, and survives all weather conditions. It is engineered to be the one flashlight you'll ever need.
Powerful focus
Shine wide or focus far. Or anything in between. Pull the front cap in or out until you have a light beam that fits your needs the best.
5 Light modes
Choose whether you need a powerful 500 lumens beam to shine up to 200 meters far, or a more gentle light source that lasts up to 20 hours.
In case of need, you can call for help by sending out a SOS message in morse code.
The best of the LED technology
The latest and the best: the US engineered CREE XM-L2 T6 LED.
It emits 500 scorching lumens with up to 50.000 hours of burn time.
Robust PCB
A piece of technology is only as great as its weakest point. That's why we made sure to give it this high quality PCB. It assures a life time of consistent durability.
Copper connections
Because 99% perfection is not good enough.
Copper connections combine conductivity and durability - improving its energy efficiency to the maximum.
Sharp lens
Made from toughened ultra-clear mineral glass and topped by an anti-reflective coating, this lens bundles all the emited light into a powerful beam that shines up to 200 meters far.
Aircraft grade aluminium
The duality of lightness and strength of this T6061 aluminium alloy makes it perfect to build aircrafts... and the Noctic Focus.
Carefully crafted and polished with an elegant layer of sandblasting, it is as pleasing to the eye as it is to the hand.
Weatherproof
With an IPX5 certification, the Noctic Focus is engineered to face any weather condition; Arctic snow storms, desertic heaths and tropical thunderstorms.
No problem.
Shockproof
The Noctic Focus is tough. It easily survives drops, shocks and hits.
Hold it in your hands to feel its true quality.
High capacity Lithium-Ion battery
The supplied 2400 mAh rechargeable Lithium-Ion battery powers the Focus for up to 20 hours of uninterrupted shining.
You can also use 3 standardized AAA batteries to supply power.
Pictures
Specs
Noctic Focus

 

Max output
500 Lumens
Max beam distance
200 meters
Max run time
20 hours
LED
CREE XM-L2 T6
Construction materials

Sandblasted + anodized T6061 aluminium
Copper connections
Rubber valves

Lens
Ultra-clear mineral glass with anti-reflective coating
Battery
1 x 18650 / 3 x AAA battery
Water proof
IPX5*
Shock proof
1 meter
Feature
Strong focus: 1° - 90° light beam angle
Modes
Strong / medium / soft / SOS / strobe
Length
135 mm / 5.31 inch
Head size
35 mm / 1.38 inch
Weight
149 g / 5.26 oz
Beam color
Arctic white
Activity
Gear, hunting, law enforcement, military, outdoor/camping
*IPX5 technical description:
IPX5
Protected against

Water jets

Effective against

Water projected by a nozzle (6.3 mm) against enclosure from any direction shall have no harmful effects.

Details

Test duration: at least 3 minutes




Water volume: 12.5 litres per minute
Pressure: 30 kPa at distance of 3 m
Box content
1x Noctic Focus
1x Nylon Strap
1x Lithium-ion rechargeable battery of 2400 mAh
1x Battery encapsulator
1x AAA battery adapter
1x Charger*
1x User manual
* Input: 100-240V, AC 50/60Hz. The charger has a EU power plug, but an adapter is supplied to customers located in the US and UK.
Guarantees
3 years warranty
Our products are carefully engineered, tested and retested. We trust they will last for a very long time, so we feel confident offering you a warranty of 3 years.
30 days money back guarantee
We love the products we've made. But if you feel unhappy for any reason, we will offer you a full refund within 30 days of receipt.
100% satisfaction
We want you to be 100% satisfied. If you have any question or problem, please contact us. We promise you that we will do our very best to help you!
Designed in Belgium
Our Belgian team spends a lot of time designing products so you would proudly want to show them to your friends.
Shipping
Available destinations
For a detailed list of shipping destinations and shipping time, "click here".


Shipping time
We pack and ship all orders within 24 hours. After that, the time it takes to reach you, depends on your location:
To Western Europe: 1 to 3 days.
To other EU countries: up to 7 days.
To the US: 3 to 5 days.
To other countries: up to 8 days.
For a detailed list of shipping times per country, "click here".
Tracking
We ship your package within 24 hours. As soon as it is shipped, we will send you the tracking information, so you would know at any time where your package is.
No import taxes
We take care of it: you won't pay a cent, dime or penny more than what you see at the checkout. We want you to have a clear and hassle-free experience. Simple.
This is the location of our last 200 customers:
Reviews
---